Category: Alice in Wonderland Footwear
Boots and shoes accessories for the character costumes of Lewis Carrol's Alice in Wonderland and Alice Through The Looking Glass.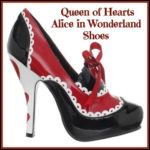 Featuring amazing, super cute Queen of Hearts shoes to accessories Queen of Hearts costumes.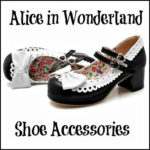 Women's Alice in Wonderland Costume Shoes Featuring a wide variety of adult women's shoes to accessorize Alice in Wonderland Costumes and women's costumes from Alice Through the Looking Glass. Have a look at our classic black Mary Jane style flats…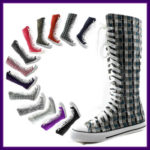 Featuring sexy thigh-high boots, fancy black patent leather platform pumps, funky Mad Hatter style shoes, plaid canvas laced boots, and a few Steampunk boots to accessorize Fancy Lady Mad Hatter Costumes.